Shopping is one of the aspects of italian tourism. Outlets – the best solution to buy top-quality goods at more or less affordable price.
Rome is one of the fashion capitals of the world, not surprisingly, the best outlet – Castel Romano – is located close to the city.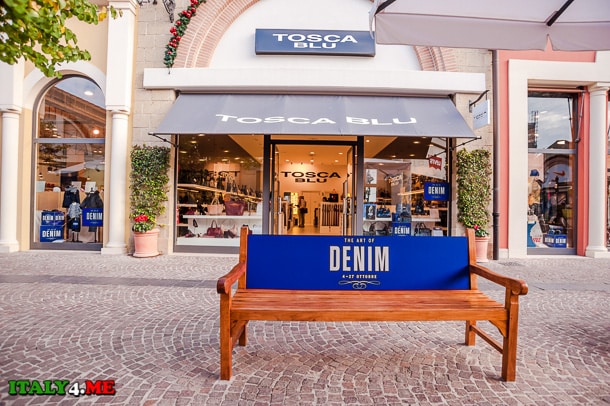 Paradise for shopaholics
A small town consists of two hundred shops and boutiques is 25 km away from Termini railway station.
This shopping center of 25 sq.km. was built by McArthur Glen company in 2003.
All the buildings are built in classic Italian style accompanied by amazing installations and landscape design. Good location, enormous amount of brands and well-developed infrastructure as well as constant discounts up to 70% make Castel Romano a mecca for shopaholics.
[Read review..]
Castel Romano looks like a mini-version of a real city. Its cosy streets will lead you from one boutique to another. In comparison with modern shopping centers, there you will find one- two storey buildings. It's almost impossible to get lost here and leaflets with maps will help you to orient and find the exact shop easily.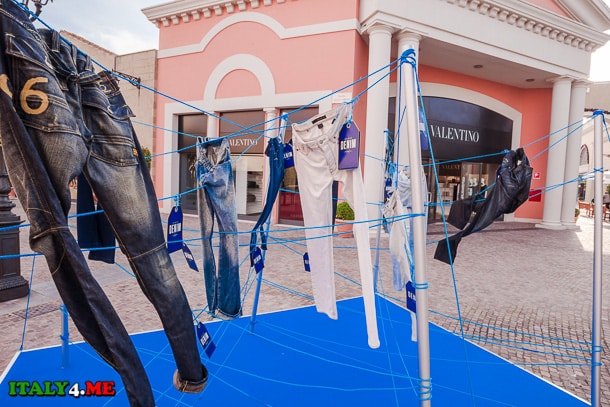 Brands
You can find shops full of clothes, jewelry, shoes, bags, perfume, accessories and other shops in Castel Romano.
Valentino, Pupa, Nike, Sisley, Roberto Cavalli, Guess, La Perla, Etro, Diesel, Adidas, Burberry, Geox, Levi's, Trussardi, Zegna and many others are waiting for you!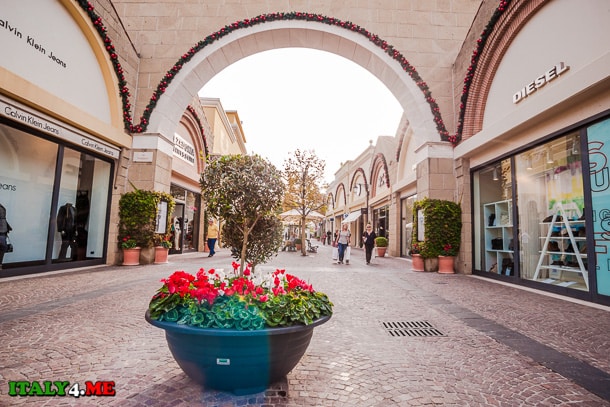 The other reason to visit Castel Romano is local Roman brands which you will hardly find even in the northern provinces and outlets of Italy. Hugo Boss represents a huge variety of its goods there. Italian shoes produced by Fratelli Rosetti will please you with its gentle leather and comfort.
[Dear reader…]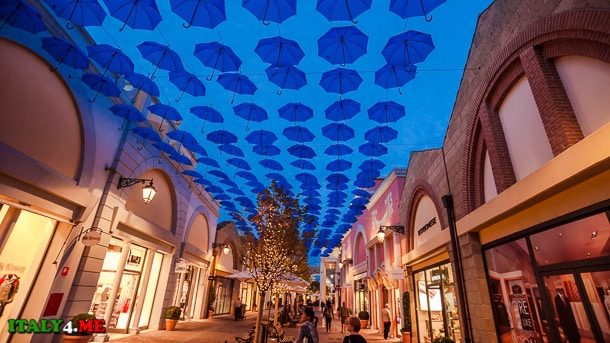 As you see, the variety of brands is really good one, besides, you can find there not only collections of previous years as in the majority of outlets, but extremely new ones, which have just been presented at a fashion shows held in Rome, New York, Paris, etc.
However, note that discounts are provided only for previous season – usually in the amount of 30%, for collections of a year or earlier – up to 70%. And no discount for the latest collection, but maybe you'll be lucky enough to find a really unique item here, which you won't find anywhere else.
How to get to Castel Romano
If you plan to visit the outlet for a shopping, stake out a day for it. If you do not want to use public transport and save your time, book a transfer.
The cheapest way to get to Castel Romano from Rome is by bus. 15 Euro return ticket and you are there. Those who like comfort can book a transfer for 50 Euro one way. And those, who do not watch money, can take a taxi.
Bus
The buses go to the outlet five times a day from Termini station (the address: Via Giovanni Giolitti 48, Rome). The schedule of the shuttlers from Rome to Castel Romano is the following: 9:30, 9:55, 11:30, 12:30, 14:30. You can get back from Castel Romano to Rome at: 11:15; 13:30, 15:30, 17:30, 18:30, 19:45, 20:05.
You can go to the outlet at any time you want and book a return ticket for 15 Euro in advance. You do not need to print it, just come 30 minutes in advance to the spot called City Sightseeing Visitor Center at the address Via Giovanni Giolitti 36, show your reservation and an Assistant will show you the bus.
We recommend you to take the very first bus at 9:30 in order to get there by the opening. Or the other option, especially when you're pressed for time, is to walk through the city at sunrise, have brunch and head to a shopping at 14:30.
Taxi
One-way trip to Castel Romano by taxi might cost 45 – 90 Euro, the price depends on how honest the taxi driver is. In most cases, the problems arise on your way back from the outlet. Be attentive and agree on the price in advance, before you get into the car.
Transfer
Transfer from your hotel (city center) to the outlet will cost you 50 Euro one-way or 100 Euro both ways, if you book in advance. It's a reasonable price especially for companies of 2-4 people.
To book a transfer without third parties, click on the link ru.rome4.us Sergio and his Mercedes E-class will be waiting for you in front of your hotel. It is very easy, besides the price is fixed and no 'sudden' surprises await you.
Advice: where is Rome city-center – how to choose a hotel?
Rented car
You can easily find Castel Romany by yourself, if you go there by car. If your starting point is Rome, then follow EUR highway, then Cristofora Colombo Street and Pontina (SS 148). Congratulations, you reached your point of destination! If you go from Fiumicino airport, head to the city-center of Rome till the exit sign to the outlet.
The easiest and reliable way to rent a car in Italy is to use this service auto.italy4.me
If you do not want to waste a lot of money on shopping, you can visit Scarpe & Scarpe nearby.
Check Shopping in Rome: addresses on the map
If you come to Rome by rented car, do read an article on how to avoid penalties.
Useful information
Opening hours:
Mon – Thu: 10:00 – 20:00
Fri, Sat, Sun: 10:00 – 21:00
Contacts and Address
Via Ponte di Piscina Cupa 64 00128 Castel Romano (Roma), Italy
E-mail: infocastelromano@mcarthurglen.com
Phone number: +39 0650 50050
Website in English: www.mcarthurglen.com