Mobile Internet in Italy is relatively cheap compared to US, Britain, or Australia rates. On average, I spend about 10 euros ($11.8) a month on calls and the Internet.
So, which plan and provider should you choose, and where can you buy a SIM card? Let's delve into it.
FAQ about Mobile Internet in Italy
How can you purchase an Italian SIM in advance?
How much does unlimited internet cost in Italy?
Which provider should you choose for mobile Internet and roaming in Italy?
Where can you buy a SIM card in Italy?
How much does a SIM card cost in Rome?
Which SIM card is best to buy in Italy?
Important Tips: How Not to Overpay for an Italian SIM Card
Where not to buy: Avoid purchasing SIM cards from suspicious websites or at the airport. Always opt for official stores or trusted sites recommended in the article.
The main reason to buy: Most tourists in Italy buy a local SIM primarily for mobile Internet. Checking emails, staying connected on WhatsApp, or posting pictures on Instagram is more cost-effective than using roaming from domestic carriers.
Don't rely on free Wi-Fi: Don't rely heavily on free Wi-Fi in Italy. Even in four or five-star hotels, the internet can be intermittent or "broken since yesterday," regardless of what room descriptions might claim. This is a typical Italian quirk.
Requirements & Timings: Remember, you'll need your passport to buy a SIM in Italy. Activation of all services might take up to 24 hours. Things move at their own pace here, so get used to it. For the "mega-complicated" task of activating a SIM or a specific plan, you might be charged a one-time fee of 10-15 euros, so don't be surprised.
Codice Fiscale: It's advisable to generate the local tax number, Codice Fiscale, in advance.
Cost-Effectiveness: In my opinion, buying a local SIM makes sense if you're traveling in Italy for more than 7 days or if having Internet on your phone is vital. Expect this convenience to cost you between 20 to 30 euros, or slightly less if you're lucky.
How to Buy an Italian SIM Card in Advance
The most convenient way today to start using the Internet immediately upon landing is by purchasing an electronic SIM card (eSim). You don't have to visit mobile communication salons or sign contracts – everything is conveniently and quickly done online. Below, a table provides verified operators and the cost of internet packages:
If you need unlimited Internet, the most beneficial tariffs are undoubtedly from the operator HolaFly. They provide internet connectivity throughout Italy and 32 European countries.
Especially for our website readers, HolaFly offers a 5% discount using the promo code ITALY4ME.

To activate the discount, enter the promo code in the "Discount code" field after choosing the tariff. With the money saved, enjoy an espresso cup at the bar counter while recalling this article.
If your visit to Italy is planned for more than 10 days, it makes sense to spend time visiting a local mobile operator's salon.
Choosing a Local Italian Operator and Tariffs
In essence, there are four leading operators in Italy – Wind, Vodafone, the newcomer Illiad, and the fourth, Tim, which I would consider as a backup. Most of my friends in Rome and I currently use Illiad, though I know many are satisfied with Vodafone. I would advise getting an Italian SIM card only as a last resort.
Be prepared to spend at least 20 euros before the SIM starts working correctly, and all services are activated – this is Italy, just love it as it is.
Illiad
Currently, the operator www.iliad.it offers the most profitable tariff at €7.99, which includes 80 GB of traffic per month.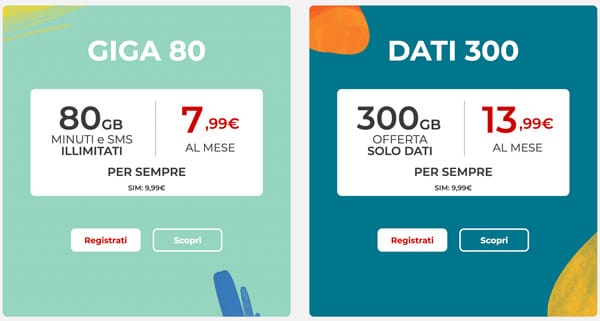 There's an additional connection fee of €9.99. After purchasing, my SIM was activated in 3 hours, but in the store, they warned me it might be activated by the next day. Places in the center of Rome where you can buy an Illiad SIM card: [Insert a table with the locations here, as the provided table tag cannot be processed directly] Map with Illiad showrooms.
Wind
I had a bad personal experience with Wind. They constantly charged double the monthly fee; sometimes, money was deducted for unclear reasons. Online or by mail, the issues couldn't be resolved. I always had to spend time visiting their showroom. Currently, Wind offers the GIGA International 40 GIGA tariff for €9.99 + €10 for SIM activation. Remember to unsubscribe from all services at the end of the month or before leaving. Ask for the cancellation service number at the showroom during activation. Otherwise, the "caring" operators will automatically deduct the monthly payment from you – this is relevant for all operators.
Addresses of Wind offices in Rome:
There's an office at the Termini station. The Fiumicino airport has no connection office, but you can recharge your balance.
You can easily find offices in other cities or near your hotel on www.google.com/maps/ by entering queries like "wind Roma" or "Vodafone Milano."
How to top up your Italian SIM card To recharge, visit the official website and click on RICARICA (recharge). Enter your number and the required amount. You can recharge through PayPal or with Visa or Mastercard credit cards. Note that Italian banks may not accept cards from some countries. From personal experience, PayPal tops up seamlessly, and the payment is credited instantly.
Vodafone
Vodafone offers the most unclear and expensive tariffs (from €14.99 for 20 gigabytes). All of my friends have switched from them to other operators, so I can't recommend them.
Tim
I couldn't figure out Tim's tariffs – most likely, you'll have to sort it out at the office in person.
I would consider connecting to them as a last resort. A possible tariff might be 2 gigabytes for €20.
List of all Tim tariffs.
I hope this article has helped you navigate the intricacies of the Italian mobile Internet. Do you have any questions? Don't hesitate to ask them in the comments, and share your experience using SIM cards in Italy.