Skiing in Italy presents an unmatched fusion of affordability and enchanting vistas, especially in the Italian Alps. The supportive stance of the Italian authorities ensures that every ski enthusiast finds their ideal spot. These skiing areas, renowned for their impeccable service and awe-inspiring views, stand out as some of the best globally.
Unlike the luxury of Switzerland or Austria, Italy boasts a rich atmosphere highlighted by mouthwatering cuisine. The primary allure here is the festive ambiance and entertainment, with sports often taking a secondary role.
A notable benefit is Italy's competitive pricing. These rates are substantially lower than many European counterparts. The Italian Alps offer a vast selection of skiing zones, so every traveler can find their perfect fit.
To aid in your selection, we've compiled the top skiing areas in Italy, including an estimated vacation cost for each.
Passo del Tonale for Beginners
The small village of Passo Tonale lies at an altitude of 1880 meters above sea level. Nearby is a mountain with a height of 3088 meters, from where tourists are invited to descend. This resort is one of the few where snow lies from late October until May. For this reason, Passo Tonale has long been chosen by the Italian skiing team.
The slopes here are designed for both beginners and intermediate skiers. And seekers of extreme sports and adventures can get to the slopes of Mount Ponte di Legno (Ponte di Legno).
There is a school in Passo Tonale, scuolascipontetonale.com/en/, where polite English-speaking instructors teach skiing and snowboarding. The resort is leads a quiet life, and fun comes here during the holidays and weekends.
Where to Stay in Passo del Tonale
The three-star Hotel Bezzi is a clear favorite among tourists coming here, and this is not surprising: excellent food, polite staff, and a high level of service have done their job. A room for seven nights will cost you about 1500 EUR.
Other options
Bardonecchia and Madesimo are the favorite places of the Italians themselves. There are small slopes at each of these hotels, which are very convenient for learning to ski.
Key Facts
The resort is located at an altitude of 1885 meters
The height of the slopes is from 1120 to 3015 meters
The length of the slopes is 100 kilometers, 17% blue (for beginners), 66% red (for experienced skiers), 17% black (for professionals)
100% of snow coverage.
Corvara in Badia for Experienced Riders
Corvara in Badia is a small, lively village, mostly for couples. It is located right at the intersection of two slopes for experienced athletes. You can easily reach the Sella Ronda area through the Alta Badia zone, where many slopes have been created for both beginners and advanced skiers. Here you can also find many cozy restaurants where you can have a snack after a breathtaking descent.
Sunsets are amazing here! You will definitely be impressed with the beauty of the landscape around you.
Where to stay in Corvara in Badia
There are several luxury hotels in this cluster. The four-star La Perla Hotel in Corvara invites tourists to enjoy skiing or snowboarding and fantastic service and dishes from the local chef.
Another four-star hotel, Hotel Marmolada, has gained popularity with its excellent restaurant and luxurious SPA.
The 2-star Garnì La Tranquillitè in Corvara is an excellent choice for those looking for a homely, cozy atmosphere away from home. In addition, you can use the services of free parking and ski storage with boot dry. A week's stay in this hotel will cost you about 1 400 EUR.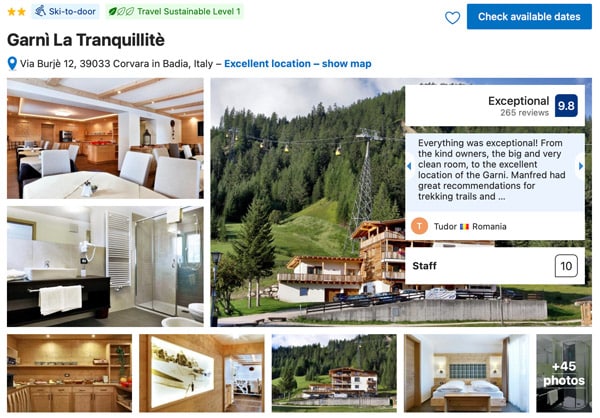 Other options
Hotel Kronplatz в South Tyrol (Sudtirol) with easy access to any of the nearby red and blue slopes.
The resort area of La Thuile in Aosta in Aosta offers its guests to use the red and blue slopes, which are connected to the slopes of the French resort La Rosière, where you can find even more breathtaking slopes.
Key Facts
The resort is located at an altitude of 1570 meters
The height of the slopes is from 1005 to 3270 meters
433 kilometers of slopes: 38% blue, 53% red, 3% black
90% of snow coverage
Official website: altabadia.org
Alagna Valsesia for Professionals
The picturesque village of Alagna Valsesia, with a stone church and small farm buildings, is located in the vast ski area of Monte Rosa.
The nearby slopes are sure to appeal to professional skiers and snowboarders: thrilling slopes with many challenging challenges will not let anyone get bored. This place is unsuitable for those who have only recently learned or are still learning to ski. It is also not a place for nightlife lovers: the lights go out here almost immediately after dinner. If you are planning a large-scale rental tomorrow, then you just need to get a good sleep.
There are only 15 kilometers of slopes in Alanya, but the village is connected to the nearby resorts of Gressoney and Champoluc, which offer tourists tens of kilometers of slopes. The village itself sits at an altitude of 1 212 meters, but fast funiculars will take you to the peaks at 3 275 meters for stunning views.
Where to Stay in Alagna Valsesia
Agriturismo Alagna is a beautifully restored old farmhouse located close to the main funicular.
The owners of the mini-hotel always warmly welcome guests, offering them comfortable rooms with wooden and stone finishes. One night and breakfast in this place will cost about 100 EUR for two.
Other options
The town of Arabba is located in the Sella Ronda ski area, but this is the best place to start exploring the most amazing slopes. Not only does it have some of the steepest slopes in all of the Dolomites, but it also offers some of the most beautiful views in Italy.
Key Facts
The resort is located at an altitude of 1200 meters
The height of the slopes is from 1200 to 3275 meters
The slopes are 73 kilometers long: 17% blue, 72% red, 11% black
97% of snow coverage
You can check the current state of the tracks at the official website: www.visitmonterosa.com
Breuil-Cervinia for Those Who Love Safe Holidays
Breuil-Cervinia – this resort, spread out at a great height, boasts the driest snow that lies here from December to May. Cervinia offers more than 150 km of slopes to the attention of tourists.
Cable cars connect this resort with the International Descent, the total length of which is 360 km.
We must admit that Cervinia is far from being the most beautiful Italian resort: there are often ugly buildings here that spoil the whole view. However, this place has no equal when it comes to sports entertainment. Numerous races of skiers and snowboarders of different skill levels constantly occur here. Sometimes it seems that they ride here without stopping for lunch and for sleep. In Cervinia, the famous red slope Ventina has a height of 4000 m.
See a detailed guide to ski Holidays in Breuil-Cervinia.
Where to Stay in Breuil-Cervinia
With the genuine hospitality of the inhabitants of the mountains, you will come across if you go to relax in the four-star Hotel Bucaneve.
The staff here wears traditional costumes, and each room breathes the old days. Another advantage of this hotel is certainly its location: the nearest ski lift can be reached in less than 5 minutes. A week of living here will cost about 1 500 EUR.
Other options
Cozy Livigno and Passo del Tonale.
Key Facts:
The resort is located at an altitude of 2050 meters
The height of the slopes is from 1525 to 3480 meters
The slopes are 160 kilometers long: 30% blue, 59% red, 11% black
50% of snow coverage
Official website: cervinia.it
Cortina d'Ampezzo for Romantic Couples
The city of Cortina d'Ampezzo is surrounded by mountains and by a chain of churches built many centuries ago. Even though Cortina d'Ampezzo remained occupied for centuries by foreign invaders, including the Austrians and Americans in 1945, the city managed to maintain its unique atmosphere that prevails here to this day in every corner.
While residents of neighboring cities speak Italian and German, locals prefer to communicate in the ancient Ladin language.
In Cortina, you will find many slopes for skiers and snowboarders of all skill levels. They are divided into several zones, between which the bus runs. However, in the village itself, despite the fact that it is the center of the resort, all life revolves not around mountains, snow, skis, and snowboards. Besides, you can find numerous designer boutiques and antique shops on Corso Italia street.
As dusk falls, Cortina comes to life. On the streets of the city, there is almost an actual parade of fur coats and other fur products, and closer to the night, all the owners of warm clothes move to nearby bars and restaurants, where they discuss the day spent over a glass of fine wine.
In 1956, Cortina hosted the Winter Olympics, so the quality of the slopes and equipment is beyond doubt. However, in recent years, the resort authorities do not deny the fact that Cortina's funding has dropped significantly. But this does not bother the inhabitants of Rome and Milan, who invariably come here to ski.
Where to Stay in Cortina d'Ampezzo
The 4-sta Camina Suite and Spa has been attracting tourists for over four decades with its stunning interior and very convenient location.
Moreover, its restaurant is the best one in the area. 7 days in one of the Camina Suite rooms will cost you about 2500 EUR.
Other options
Stunning peaks surround the market town of Ortisei. Local slopes suggest a leisurely descent, during which you can enjoy the beauty of the mountains. The small, quiet village of Cassiano, which is located on three plains, has a unique atmosphere.
Key facts
The resort is located at an altitude of 1225 meters
The height of the slopes is from 1225 to 2930 meters
The slopes are 115 kilometers long: 50% blue, 35% red, 15% black
50% of snow coverage
Official website: www.skicortinadampezzo.com
Sauze d'Oulx for Party Goers
Since the early 1970s and 80s of the last century, Sauze d'Oulx has been known as a ski resort where parties play a bigger role than sports.
Before noon in this district, you would not meet a single soul on the slopes. The charming village has undergone several global changes but has not lost its unique "party" atmosphere. In the city center, buildings of the last century were pushed aside by modern facilities in the Art Nouveau style. It is the very heart of Sauze d'Houl. The more you move away from the main streets, the more dissent the sound is.
But despite all of this, the Sauze d'Ouls offers one of the best slopes in Italy. They stretch all the way to the resorts of Sansicario, Sestriere и французского Montegenevre. The total length of the slopes is about 400 kilometers, which are served by 66 lifts.
At the intersection of these numerous slopes, there is a whole scattering of restaurants, hotels, and other entertainment facilities. To dine here, you do not need to have a fortune – the prices in this area are very affordable. Many bars often have live music, so you can enjoy a glass of wine and stunning scenery outside the window while listening to light jazz.
Where to Stay in Sauze d'Oulx
Unfortunately, one shall admit that most of the hotels in Chalet Faure & Spa do not deserve special attention.
However, it is still worth highlighting the 3-star Chalet Faure & Spa, an old house rebuilt into an excellent hotel with a SPA and its own wine bar. 1 week's stay will cost you around 1000 EUR per room.
Other options
The villages of Madonna di Campiglio and Cortina d'Amprezzo in the Dolomites offer their guests a more intense and vibrant nightlife.
Key facts
The resort is located at an altitude of 1510 meters
The height of the slopes is from 1390 to 2825 meters
The slopes are 400 kilometers long: 25% blue, 55% red, 20% black
60% of snow coverage
Official website of the resort: www.sauzeonline.com
Champoluc Resort for Holidays with Family and Children
The Monterosa mountain range is not as popular as it deserves to be. Nevertheless, the lovely village of Champoluc has a typical Italian atmosphere: stunning scenery, cozy bars and cafes, and no queues neither in the shops nor on the slopes.
Moreover, there is a great English skiing school where the instructors speak several languages. They are highly qualified specialists from Italy and England, ready to train everyone from 4 years old.
A big plus of this resort is the babysitting service. As a rule, for example, Italians go on vacation with the whole family. They do not leave children and their parents at home. So, in such case to let all the adults enjoy holidays, there should be someone who will take care of the youngsters. The Italian ski school Scuola Sci Champoluc gives such an opportunity and will do it for you.
Where to Stay in Champoluc
The 4-star Relais des Glaciers hotels offer an excellent SPA and a great location, just a seven-minute walk from the main square of the village.
The friendly service staff will be happy to help you and serve delicious food for you and your children. A one-week stay will cost you about 1 000 EUR.
Other options
Gressoney and Selva also provide a babysitting service.
Key facts
The resort is located at an altitude of 1570 meters
The height of the slopes is from 1200 to 3275 meters
The slopes are 73 km long: 17% blue, 72% red, 11% black
97% of snow coverage
Livigno for Those Who Love Silence
Livigno is one of the most remote ski resorts in Europe. The road here from Innsbruck will take at least an hour, and from Milan airports about 3-4 hours. However, the long trip to Livigno was worth it because of the well-equipped pistes, low prices, and safe snow cover.
The village is located 10 kilometers from the mountain road, which ends at the foot of the 1816-meter mountain called Little Tibet, close to the border with Switzerland. Numerous slopes start here. New lifts and slopes, as well as new hotels, are opened yearly in Livigno. Trails of medium difficulty prevail here.
In December, Livigno hosts the traditional ski marathon (35 km). In addition to the numerous advantages of this resort, it is worth highlighting the fact that it is duty-free. It seems that prices are frozen at the level of Napoleon's times. It is often harder to find a bottle of milk here than a case of whiskey.
Where to Stay in Livigno

Hotel Cristallo is by far one of the best accommodation options near Livigno in Bormio, just 400 meters from the cable car.
A week's stay in this three-star hotel will cost about 1 000 EUR.
Other options
The huge Snowpark complex in Bardonecchia hosted several sporting events during the Winter Olympic Games in Torino in 2006. A huge hill with a height of 1100 meters is divided into five zones depending on the purpose and complexity of the slopes. There is also an Olympic halfpipe here. Freestyle zone Indian Park (Indian Park) in Cervinia is considered one of the best in Italy and worldwide.
Key facts
The resort is located at an altitude of 1815 meters
The height of the slopes is from 1815 to 2795 meters
The slopes are 115 kilometers long: 38% blue, 47% red, 15% black
70% of snow coverage
Official website of the city of Livigno: www.livigno.eu
Madesimo for Connoisseurs of Beauty
Madesimo is a small but lovely village located next to Lake Como, 2.5 hour drive from Milan and Bergamo. It is especially popular with those who are looking for the perfect "price-quality" balance.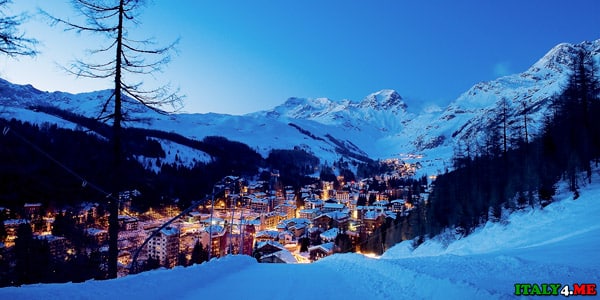 The slopes here are mainly for intermediate-level skiers and snowboarders, but true professionals will also not be bored. There are a dozen excellent slopes of different lengths and types. The village is full of tourists on weekends, but Madesimo is pretty quiet throughout the week.
This resort has a huge number of restaurants, pizzerias, and bars, the prices of which are comparable to those in the French resort. However, the Dogana Vegia restaurant, which is located on the highest point of the city (about 25 minutes from the center), definitely deserves special attention. The stunning interior and wonderful dishes of the local chef will leave no one indifferent.
Where to Stay in Madesimo
Imagine waking up and skiing right to the Montalto cable car. Yep, Sport Hotel Alpina's got that awesome ski-in, ski-out vibe.
After conquering the slopes, dive into a cozy Alpine room, maybe one with a jaw-dropping Alps view. Hungry? Their Michelin-starred restaurant is a must-visit, serving up both Madesimo flavors and Italian classics. Guests rave about the perfect ski spot and killer breakfast. If skiing and scrumptious food are your jam, this is your winter getaway spot!
Other options
Search for an option in Livigno, as well as the budget resorts of Folgarida and Marilleva.
Key facts
The resort is located at an altitude of 1500 meters
The height of the slopes is from 1500 to 2945 meters
60 kilometers of slopes: 49% blue, 42 red, 9% black
65% of snow coverage
Official website of Madesimo: www.madesimo.com
Courmayeur for the Weekend
Of course, when choosing a Courmayeur resort where you could drop by for the weekend, having an airport nearby is of great importance.
Courmayeur is a two-hour drive from Turin and from Geneva. This original mountain village is located right on the slopes of Mont Blanc.
As a rule, Italians flock to Courmayeur by Friday evening. They are strolling along the pedestrian street Via Roma (Via Roma), where many designer boutiques and cozy cocktail bars are located. Contrary to the general trend, in the morning on the slopes, you can meet not so many people who want to ride: everyone sleeps off after a great Friday and Saturday evening.
See a detailed guide to ski Holidays in Courmayeur.
Where to Stay in Courmayeur
The three-star Bouton d'Or provides its customers with spacious rooms and a large parking lot and also boasts a good location: there are a lot of restaurants near the hotel to suit every taste.
The cost for a week's stay in this place is about 1400 EUR.
Other options
You will also like the lively towns of Sauze d'Olux and nearby Sestriere. Again, the prices are pretty reasonable, considering its service-location-price ratio.
Key facts
The resort is located at an altitude of 1225 meters
The height of the slopes is from 1210 to 2755 meters
The slopes are 36 kilometers long: 27% blue, 59% red, 14% black
70% of snow coverage
Official website of the Courmayeur resort: courmayeur-montblanc.com
What you Need to Know Before Planning a Ski Holiday in Italy
How many ski resorts are in Italy?
What is the highest ski resort in Italy?
What is the biggest ski resort in Italy?
How much does it cost to ski in Italy?
Is it cheaper to ski in Italy?
What is the cheapest month to go skiing in Italy?
When is the ski season in Italy?
How to Get to the North of Italy
Since all the ski resorts are located in the north of Italy, the most rational option would be to fly to Milan or Turin.
You can combine shopping in Milan for a couple of days and then head to the mountains by rented car or train to ski. Have fluffy snow and enjoy the ride!