Here you will find my rating of Top-10 best 5* hotels in Rome. The rating is based on my own experience and feedback from my friends and tourists.
Apart from the list, I would like to pay special attention to a new hotel called The Pantheon Iconic Rome Hotel, which was opened in 2018 near the Pantheon. The ideal location and service made my choice. If there are free rooms on your dates and the price is acceptable for you, do not hesitate and book it!
In the article "Where is the city center of Rome," I recommend choosing hotels as close to Pantheon as possible so that you can easily reach all the sightseeing attractions – that is the case.
Hassler Rome
The main bonus of Hassler Roma hotel is that it's located on the top of the Spanish Steps – one of the most exciting sights in Rome. Besides, after hours of walking around the city, the hotel guests have free access to the Spa-center. If you come with children, do not worry, you can book a babysitter in advance.


Michelin restaurant Imàgo is on the hotel's top floor with a fantastic terrace, where you will definitely enjoy your dinner and the city view in sunset lights. You have an option to choose Italian or International cuisine.


All the rooms are equipped with air conditioners, TV, and Wi-Fi.
Spagna metro station is 5 minutes walk away from the hotel. A minute walk and you find yourself among numerous boutiques at Via dei Condotti street – one of the most popular shopping streets in the world.
Address: Piazza Trinità Dei Monti 6, prices from 544 EUR per night.
Hotel De Russie
Hotel De Russie is 50 meters away from Piazza del Popolo. One can see it through the windows of the hotel rooms. Le Jardin de Russie restaurant will please you with Mediterranean cuisine. If the weather is fine outside, you will be served in the picturesque inner garden of the hotel. If you are not hungry but want to chill out and try cocktails, feel free to visit the Stravinskij bar.


The rooms are spare enough with a combination of classic and modern style. Besides, the guests can use Spa-center of the hotel with a wide variety of services: massages, wrapping, individual detox programs, etc.
Address: Via Del Babuino 9, Spagna, prices from 800 EUR per night
Parco dei Principi Grand Hotel & SPA
Parco dei Principi Grand Hotel & SPA is in 5 minutes walk from the famous Villa Borghese park and Borghese Gallery (Galleria Borghese). Pauline Borghese restaurant, in its turn, will please you with delicious Italian cuisine.
Address: Via G. Frescobaldi 5, Flaminio, prices from 471 EUR per night.


If you are searching for a hotel in Rome, read this article and 10 Best 4* hotels in Rome.
Boscolo Exedra Roma
White marble Boscolo Exedra Roma hotel is located at a square called Piazza della Repubblica, which was built in the XIX century.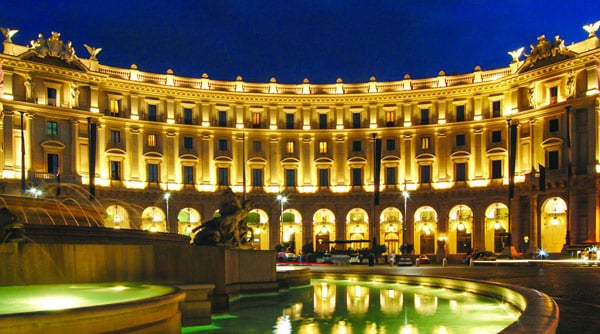 The main secret of this building is a huge Pope's granary, now it's called 'Clementino,' and several rooms are located there. The rooms are pretty big; the bathrooms are decorated with marble and redwood. Besides, if you are fond of the Etro brand, you will like to take a shower with its shower cream, shampoo, etc.
Nearby, you will find boutiques, bars, restaurants, and the Republica metro station. Five hundred meters away from the hotel, and you are at Termini railway station.
Address: Piazza della Repubblica 47, Termini, prices from 420 EUR
Palazzo Montemartini Rome
Palazzo Montemartini Rome – is considered to be the least expensive among 'luxury' hotels. If you plan to travel and visit other cities, just across the road, you will find Termini – the central railway station. An hour trip by train and you are in Naples.


If you swim or do any other activity and do not want to get out of your training plan, you can use two swimming pools on the hotel's roof. In addition, the Vittorio Emmanuele metro station is within a 5-minute walk.
Address: Via Filippo Turati 171, Termini, prices from 569 EUR per night.
Hotel Palazzo Manfredi
Hotel Palazzo Manfredi – amazing view of – the Colosseum! You won't forget breakfasts with the view of the ruins of the Roman Forum!


The rooms are cozy and equipped with a mini-bar. Besides, you will find a self-service restaurant here. If you want to see more and are not afraid of Roman traffic, feel free to rent a car at the hotel's reception. If not, then you can use public transport – the Colosseo metro station is a 2-minute walk from you.
Address: Via Labicana 125, Colosseo, prices from 590 EUR per night.
Hotel Splendid Royal
Hotel Splendide Royal seems to be created for those who want to feel Italian 'dolce vita,' as Federico Fellini understood it. You have a great chance to feel it yourself thanks to boutiques of famous clothes and shoe brands and popular restaurants at Via Veneto street!


The rooms are comfortable; some of them have their own terraces with a view of Villa Borghese. A Michelin-star restaurant of the hotel is famous for its breakfasts and Mediterranean cuisine.
Address: Via Di Porta Pinciana 14, Via Veneto, prices from 440 EUR per night.
DOM Hotel Roma
Design-hotel DOM Hotel Roma is located at Navona Square (piazza Navona) and attracts tourists with its Baroque fountains.


Cozy rooms are well-equipped. Fresh croissants, coffee, and freshes for breakfast – the best start of the day! If you are on a short trip, then Dom Roma is the best option for you. Thanks to its location, you will easily reach main sightseeings for a short period of time. Pantheon, Brasci castle (palazzo Braschi), and a couple of churches are close to the hotel. Fifteen minutes walk, and you are at St. Peter's Cathedral (Basilica di San Pietro).
Address: Via Giulia 131,  Navona, prices from 670 EUR per night.
The First Luxury Art Hotel Roma
Luxurious, The First Luxury Art Hotel Roma is in the very heart of the historic city center of Rome. This one is ideal for those who love Art Nouveau and pieces of modern art.


You'll never forget the fabulous interior of the hotel and the taste of the dishes cooked by the chef of Micheline All'Oro restaurant.
A 2-minute walk, and you'll find yourself at Ara Pacis museum or at Via Condotti – the street full of boutiques, or at Flaminio metro station.
Address: Via del Vantaggio 14, Spagna, prices from 888 EUR per night.
Grand Hotel Plaza
Grand Hotel Plaza – is an ideal hotel for those who cannot live without beautiful views and shopping. If you go to the terraces, you'll see Villa Borghese – a fantastic park to have a walk or to visit the Borghese Gallery – and the Spanish Steps.


Moreover, you have a chance to enjoy famous European high-ceilinged interiors and marble bathrooms. Many movies were shot here, and several wedding photo shootings were made by me as well.
American-style breakfast is served, which is quite a rare case in Italy.
Address: Via del Corso 126, prices from 530 EUR per night. Read more about Via del Corso Street.
Two more hotels, Grand Hotel De La Minerve and Gran Melia Rome – are not in the list; however, they are worth staying in as well:
Below you'll see a map, where you can find all the hotels I've recommended and the sightseeing attractions for your convenience: