Claude Josephine Rose Cardinale was a popular Italian actress in 1960's. Her stage name was Claudia Cardinale.
The actress has a list of over 50 films, she has worked with Federico Fellini, Luchino Visconti di Modrone, Gianfranco Corsi, Claude Lelouch and many others. Being an actress she has received numerous awards and besides is a UNESCO ambassador.
Biography
The future actress Claudia Cardinale was born in April 15, 1938. Her parents were Italians, but she was born in Tunisia, where the spouses Cardinale moved in search of a better place to live. Tunisia at the time was a French colony so French is Claudia's native language.
Parents
Her farther was a Sicilian entrepreneur in Africa and worked on the construction of Tunisia's first railroad. Claudia remembered him in a white suit in a car with a convertible top.
Her mother – Iolanda Greco – was the daughter of a shipbuilder from Sicily. She was cheerful, with excellent vocal skills and a wonderful laugh. Her parents differed from the other inhabitants of the colony by their beauty and education. Except Claudia, Iolanda gave birth to 3 more children:  daughter Blanche, as well as to their two younger sons. They called Claudia as male 'Claude' for her boyish quick-wittedness and fidgetiness.
Mother and father did not allow their children any indulgence in upbringing, and were strict and demanding. If the children did something wrong, they were severely punished. And Claudia, as the eldest in the family, tried to command all the other children.
The school years
Schoolteachers also followed conservative methods in education, and classmates often teased and beat Cardinale's children, calling them 'fascists'. As a young girl, Claudia kept herself out of trouble by getting into fights, for which her teachers often punished her.
Claudia did not wear makeup by adolescence, walking in black clothes and strictly observing chastity.
But the "clothes of a nun" couldn't hide her beauty. She never thought of a career as an actress and in the future saw herself as a teacher-missionary. She wanted to travel to the African continent and teach young children, although she loved the cinematography. The future actress was a fan of Marlon Brando and Brigitte Anne-Marie Bardot.
The career of Claudia Cardinale against the will
Fate had decided otherwise. When the girl was 14 years old, a budding French filmmaker René Vautier visited their school. In his documentary film "Golden Rings" about the sailors of Tunisia, the role of a young Arab girl was vacant. He was searching for a suitable character among Muslim schoolgirls, but parents who allowed nothing their children did not allow them to participate in shooting. Then Vauthier began to look for a European, similar in appearance to the Arab, and chose Claudia.
Read also: The best movies with Sophia Loren and Marcello Mastroianni
In the film, Claudia is shown for a few seconds, it's amazing footage. A gust of wind blew the handkerchief from her face and  mesmerizing black eyes were looking in the camera. The picture won first place among many others at the Berlin Film Festival, and the audience and the jury were simply enthralled by the unknown girl. After that, she received an offer to take part in a fashion show for young people. Shortly,  Claudia Cardinale became the it-girl of one of the fashion magazines.
Then a popular Egyptian actor Omar al-Sharif (Omar Sharif) paid attention to Claudia and suggested Jacques Baratier to shoot her in his historical movie "Goha". The director was interested in the type of girl and asked her father for permission to shoot Claudia. Her father did not mind, but the younger Blanche burst into tears, because she wanted to be an actress as well. Claudia at first did not want to be filmed, she asked to take her younger sister, but he laughed in response.
Crucial point
In reality, a lot of circumstances pushed Claudia Cardinale to be an actress. One day, during another beauty contest, the two sisters were selling lottery tickets near the stage. One of the members of the jury saw Claudia and announced that she was the winner of the contest, dragged the girl on stage, and soon she took the honorary title of the most beautiful girl.
The reward for participating in the contest was a visit to the Venice Film Festival in 1957. For her, it was another world, like a fairy tale, with tons of light, miraculous transformations, and smiles.
There, directors and producers began to make her offers of episodic roles and castings, which Claudia initially refused. Only Franco Cristaldi (Franco Cristaldi) saw in Claudia the great potential of the movie star and offered her to sign a 7-year contract with his company "Vides Cinematografica" for the 2nd plan roles. The contract banned cutting hair, gaining weight, and get married. As time has shown, it was a mutually beneficial contract: the actress has received many good roles, and the company earned good money.
Cristaldi helped his protégé to get roles in such films as "Intruders, as always, remained unknown" ( "I Soliti Ignoti", 1958) and "Three Foreigners in Rome" ( "Tre straniere a Roma", 1958). Claudia was working with Vittorio Gassman (Vittorio Gassman), Renato Salvatori (Renato Salvatori), and Nando Bruno (Nando Bruno). Only one unpleasant event overshadowed the beginning of his career….
A son introduced by his brother
Before a beauty contest, Claudia began to notice that a suspicious man was following her. He was always waiting for her after classes, following everywhere, which undoubtedly frightened the young beauty. One day a friend asked if Claudia wanted to meet a young man and introduced her to the man. He picked up the girl after class to take her to his girlfriend's party. Claudia shook off her fears, deciding that her new friend wouldn't hurt her.
When they got in the car, the man took the girl the wrong way. They drove out of town, where Claudia was raped. The rapist ordered her to keep quiet, and she was afraid to tell her parents right away. Soon it turned out that she was expecting a child. The man met with his victim and offered to get rid of the baby; Claudia refused.
Being at the 7th month of pregnancy it was practically impossible to hide her growing belly and Claudia told Cristaldi the truth, offering to stop working together. Franco reassured Cardinale and helped her hide the pregnancy from everyone else.
Moreover, it was the producer had an unpleasant conversation with Claudia's parents. They were horribly angry. The father did not communicate with his daughter for a long time. But urgent action was needed, and the producer sent the girl to the capital of Great Britain, where in October 1958, baby Patrick was born. Soon, Claudia's mother came there.
They agreed that this baby gonna be her 'son', as it was necessary to preserve the integrity of the "bride of Italy" to the press and not to violate the terms of the contract. Everyone was told that he was the brother of the actress, and Claudia Cardinale went for it. The boy had not clue that Claudia was his real mother until he was 8 years old. And when it happened, time was lost, and the warm relationship between mother and the son did not work out.
Life in Rome
Rome made Claudia be depressed with its crazy rhythm she failed to adjust herself. She began training at the actor's course at the Roman Film Center.
The photo shootings came out great, Claudia Cardinale photos in her youth without makeup are gorgeous.
When she was offered the role of Aida in the film "The Girl with a Suitcase" ("La ragazza con la valigia", 1960), the actress wasn't  thinking much about the role. According to the script, the main character from a poor family had to keep her pregnancy in secret, as Claudia herself did recently. The role was successful, but the actress was depressed after it. Her personal story and the past clashed with her role and caused a storm of unpleasant emotions. She wanted to leave the cinematography, luckely the directors and screenwriters persuaded her and she agreed to stay.
Celebrity fans
The camera loved the actress, and on stage, she was a goddess. But the difficulties with the Italian language brought her a lot of troubles. Sometimes she had to memorize roles by ear, but she coped with everything in the end.
In 1960, the young actress was offered the role of Barbara in the movie "Handsome Antonio" ("Il bell'Antonio", 1960), where her lover on the screen was Marcello Mastroianni (Marcello Vincenzo Domenico Mastroianni). The man never took his eyes off Claudia and fell in love with her. Claudia, having learned by her experience, could not, and did not want to open up to men for love. She just laughed in response, and strongly hurt the self-esteem of the actor, he was not used to this kind of denial.
In 1960, Luchino Visconti made his first film, where he began working with Claudia Cardinale. With Rocco and his Brothers (1960), Il Gattopardo (1963), Vaghe stelle dell'orsa (1965), and Gruppo di famiglia in un interno (1974), the Maestro's films with this young star became true works of art.
In "Rocco and Brothers" Claudia Cardinale played Ginetta, the faithful and loving wife of her elder brother. Here she met Alain Delon (Alain Delon). The director liked this couple and Visconti invited them to the role of spouses in the movie "The Leopard.
In real life, they were friends, which almost led to a love story. Love scenes with a young handsome actor tormented her, but her strickt upbringing did not allow her to follow the passion. Allen noticed  this but was sure  that she fell in love. He bet with Visconti, that he would win the heart of a girl and lose. Cardinale was flirting, but the relationship did not go further.
Claudia Cardinale could not resist only one man. While shooting "La viaccia" ("La viaccia", 1961) Claudia was attracted by a young man who made everyone laugh outside of filming, but extremely shy with the girls. He gracefully and gently showed Claudia signs of attention and she gladly accepted. It was Jean-Paul Belmondo.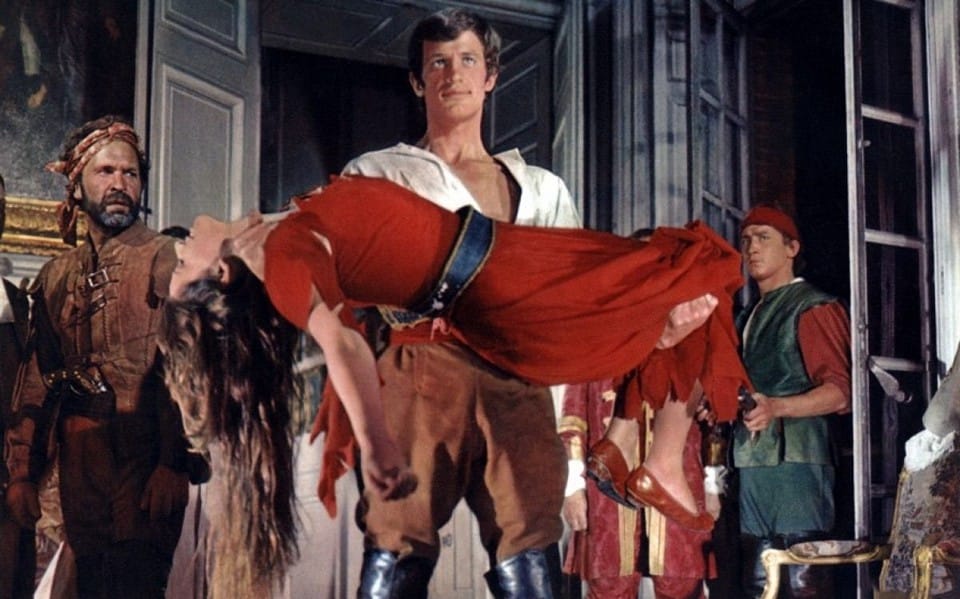 A little later, on the set of "Cartouche" ("Cartouche," 1961), Cardinale-Belmondo met again. The actress was interested in the actor, trying to imitate him in everything. She, like her partner, did not use the services of stuntmen in a scene when they had to cross the canyon on a raft. Their duet worked harmoniously and sincerely, and the emotions of the actors went over the edge, which had a positive impact on the movie.
Claudia's career has steadily climbed upward, but one circumstance was a deterrent to her. Her long-term contract with Cristaldi made Claudia a hostage of the producer.
He controlled Cardinale's life: the roles in the films, her image, working hours, royalties. Unofficially Claudia was considered to be his wife. On tours, they lived in the same room, but she addressed Franco in official manner. In the early sixties, the man made the actress a proposal, and she was afraid to refuse. They got married in secrecy from everyone.
Hollywood
The films of Luchino Visconti and Federico Fellini made Cardinale a world star. Already famous, the actress went to Hollywood. Blake Edwards shoot her in 'The Pink Panther '(1963). Claudia's role was  a permanently drunken princess from Russia.
After this movie, there were a few more minor roles and Claudia returned home. A long-term contract in Hollywood was not signed.
The Soviet Union
Audiences in USSR saw Claudia Cardinale in the film The Bride of Bube (La ragazza di Bube, 1963) directed by Luigi Comencini. This is the anti-fascist story of a young Resistance fighter who transforms herself into a real fighter.
In 1960's, director Mikhail Kalatozov decided to make a film about Umberto Nobile's failed scientific expedition to the North Pole. The shootings needed large investments. Suddenly, Cristaldi gives $ 10 mln. sponsoring his movie with the only condition to shoot Claudia Cardinale. Especially for her a role of a nurse was created.
In 1967 Claudia attended the Moscow Film Festival as a guest. In 1968 she came to the USSR for the second time. Cardinale was not particularly interested in such a role, but Cristaldi's actions were not subject to discussion. The movie was called 'The Red Tent'. Claudia Cardinale worked together with Nikita Mikhalkov, Thomas Sean Connery, Eduard Martsevich, and Peter Ingle Finch. In Italian the film is called "La tenda rossa,", in English it is "The Red Tent," released in 1969.
Claudia turned into blonde and on 30-degree frost sledged with Martsevich until he broke his leg. Before ,shooting a scene the actress was rubbed with alcohol and given vodka to drink.
Best films
The film "The Leopard", which reveals the epochal secrets of the Garibaldi century, taught the young actress a lot. Claudia played Angelina, the daughter of a wealthy and corrupt politician, Alen Delon was her husband.
Filming and acting staff worked in harsh conditions of terrible heat. The actors wore real costumes of the century and all the time walking in the makeup, the accessories were real, vintage, including stockings, perfume, and scarves. The ball scene was being shoot for a month. Visconti demanded  a peculiar gait and ambiguous facial expressions from the actress. Her eyes had to express the opposite of what she said. And Cardinale learned how to do it!
In parallel with "The Leopard" in 1963, Claudia works for Fellini's "8½ Otto e mezzo" ( "Eight and a half"). Claudia Cardinale recreated the image of a flawless girl, painted in the dreams of the protagonist Guido Anselmi (Marcello Mastroianni).
Fellini saw only Cardinale in the dream that came to life. The movie was filmed in Sicily, the actress was torn between the two cities. Visconti scolded Claudia for cooperation with Fellini, as he openly disliked the director and his work.
Visconti loved order, while Fellini was about chaos, inventing scripts on the fly. But Fellini, despite Claudia's rough voice, he decided not to duplicate it, as was done before. Claudia was grateful to him for this decision.
After the 'Redtent', in 1971, Claudia got a role in the comedy of Christian-Jaque "Oil Producers" ("Les pétroleuses", 1971), along with Brigitte Bardot (Brigitte Bardot). The film was a success. Claudia and Brigitte became friends for many years.
The family
The influence of her oppressive husband influence on Claudia's life. After several years of such relationship, the actress fell in love with the young director Pasquale Squitieri, who at that time had a wife and three children.
She confessed to her husband that she fell in love with another man. Cristaldi became furious, and threatened to kill himself and destroy Claudia's career, but this didn't help. Then the jealous husband tried to ruin the life of his wife's lover. He made everything he could in the cinematography, and Pasquale was forbidden to shoot movies. Pasquale blamed Claudia in his misfortune and actually didn't want to snatch wife of a powerful man and ruin his own career.
Three years later, things gradually improved. Squitieri shoot good movies, and Claudia gave birth to a girl, named her Claudia as well. A couple of months before the big day, Claudia became a grandmother. Patrizio, her son, had a daughter named Lucile.
Claudia lives with her husband in Paris, sometimes filming, visiting her family in Rome, and besides Cladia is involved in social activities.
Interesting facts
In 1963, newspapers devoted 29 thousand of articles to Claudia Cardinale.
In 2008 the actress was awarded the Legion of Honor.
The height of the actress is 168 cm.
The name of the father of her son has never been disclosed.
Cardinale and Cristaldi were married in 1966 in the United States but have not announced it because the church has not yet dissolved the first marriage of the producer.
Cristaldi gave Claudia's son his last name, but the boy is not an heir as the marriage was not considered valid in Italy.
Claudia speaks Italian, Arabic, French, English, and Spanish.
Blanche, Claudia's sister, also worked as an actress but did not become famous.