Agrigento beaches differ from other Italian seaside resorts.
The region's geographical position and hot African breath make this part of Sicily a place of fantastic landscape, hot sea, and an ideal place for those who seek privacy.
The territory between Punta Bianca and Porto Empedocle is full of sand beaches.
Even though Agrigento city – the capital of the province – has no access to the sea, one can easily get to any beach in the region within 15-30 minutes by public bus. You can choose between golden sandy beaches, 'wild' ones, or with white cliffs.
The water is pretty warm here: 21,3º – 22,4º in June – October, and up to 25,8º in August – the hottest month.
You will definatly be impressed and fall in love with Scala dei Turchi, San Leone (Spiaggia San Leone), and Punta Bianca (Spiaggia Punta Bianca) beaches.
Scala dei Turchi beach
The beach is famous not only in Agrigento province but also across Sicily. Natural fifty-meters high white lofty cliffs, laying for 2 km along the seashore, make this place really unique. Scala dei Turchi, which means 'Turkish stairs,' was formed in ancient times, when Turkish and Arab ships harbored here.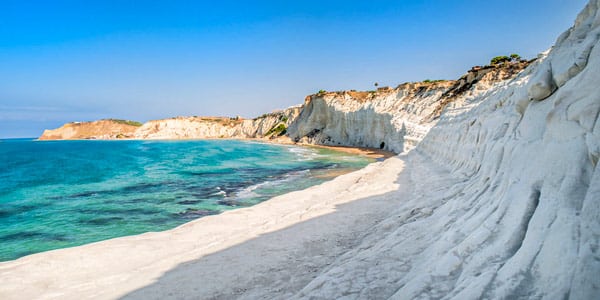 Scala dei Turchi, which means 'turkish stairs' was formed in ancient times, when Turkish and Arab ships harboured here.
A combination of white cliffs, dark yellow sand, and transparent turquoise water dazzles everyone! However, those who want to go deeper in their search for beauty can enjoy diving and see the underwater life of the place.
Для отдыхающих большое удовольствие доставит дайвинг, так как подводный мир побережья удивляет разнообразием морских обитателей.
To end the day full of beauty and positive vibes, visit one of the restaurants and try Sicilian cuisine, famous for its seafood.
Read about:
San-Leone Beach
If you plan to visit the Valley of the Temples (Valle dei Templi), do not hesitate to head to San Leone beach afterwards. That would be a good reward on a hot sunny day.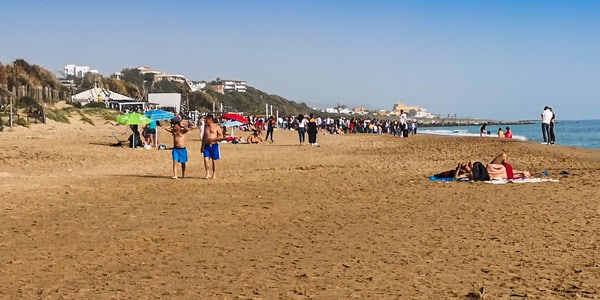 The beach is located 7 km away from Agrigento city and attracts many tourists thanks to its infrastructure. The place is ideal for those who want to surf during the day and party hard late in the evening and for families with children.
Here one will find a perfect clean sea, fine sand, and a steady coastline.
Punta Bianca Beach
Once you've checked San Leone, visit Punta Bianca Beach (Spiaggia Punta Bianca) near Zingarello village. It is located 24 km away from Agrigento city, and it is not so easy to get there, but it's worth it! Watch the video:
The beach looks fantastic! You will be amazed by 'snowy', marble coastline. Do not forget to take water and snacks with you. The beach is a secluded place and there are no restaurants or bars. It is worth taking a light lunch and water with you, as the place is very secluded and does not have the usual beach facilities.
Map of the Best Beaches in Agrigento
Below we mapped all the beaches, main sightseeing attractions, and high-ranked hotels in Agrigento province.

Southern Italy is full of ancient 'must-see' places and fantastic nature. Please plan to spend several days enjoying the region's atmosphere and its beauty. Check the temples of Ancient Greece, exploring the medieval city, and see antique pieces.
If you go there by car, check the helpful information here.
Visit the Best Sicily Guided Tours