The official website www.ItaloTreno.it has two language versions: English and Italian. This article will help all our readers understand the nuances of buying tickets for the best trains in Italy.
Italotreno is a private company, and, unlike the outdated website Trenitalia.com, Italo is much more convenient to register and buy tickets. The trains themselves are also very comfortable, and when planning mooving back and forward the main cities of Italy, I always check the ItaloTreno tickets first. If there are no options, then I go to Trenitalia.
Where to go by high-speed ItaloTreno train?
ItaloTreno high-speed trains run on the Turin-Milan-Reggio Emilia-Bologna-Florence-Rome-Naples-Salerno route, branching out to Padua and Venice in Bologna. From Rome to Milan at an average speed of 250-300 km / h, the train reaches the point of destination without stops in just 2 hours 50 minutes. For comparison, by car, this distance of almost 600 km can be covered in 6-7 hours at best, and by bus, it takes about 8 hours.
Registration at the ItaloTreno website
It is unnecessary to register at the ItaloTreno website to buy tickets, but this will save you time if you plan to return to Italy or buy tickets several times. And it is also essential that all purchased tickets are saved in your profile.
Let's consider the registration of a profile on ItaloTreno step by step. First, let's start with the main page of the official site; I chose the
English version. Then, in the upper right corner, click LOGIN.
A pop-up window prompts us to log in via Facebook or Twitter. Whether to log in through a social network is up to you. Choose Sign-Up.
Fill in all the required fields:
Name
Surname
Password
Confirm password
Email
Confirm email
Mobile phone (international format, without '+')
Sex
Date of Birth
And specify a random Italian city and address (can be the same as in the example below) and 'Italy' as the nation.
Address
City: Roma
Zip Code: 00150
Nation (Nationality): Italy
Tick all three checkboxes, accepting the terms of the agreement. And click on the button SIGNUP, IT`S FREE.
A pop-up window will open confirming successful registration.
A welcome confirmation email will be in your email box.
Now you can start buying tickets. In the upper right corner of the screen, click on the arrow and select BUY A TICKET.
Buying a ticket
Consider buying an ItaloTreno ticket using a real example. For example, let's say your trip starts in Rome, and your destination city is fabulous Venice.
Choose a One-way ticket. Fill in the fields.
From: in Rome, I choose Roma Tutte ('Tutte' means all stations) –  although Italotreno stops only at Termini and Tiburtina station with a difference of 10 minutes.
To: Venezia S.Lucia is the central station of Venice.
When: specify the date of your trip
Time: you can choose anytime (any) or specify your preferred departure time, for example, the first half of the day from 5:00 until 14:00 hours.
Who: number of passengers.
If everything is filled in correctly, then everything except the date should turn out the same as in the picture below.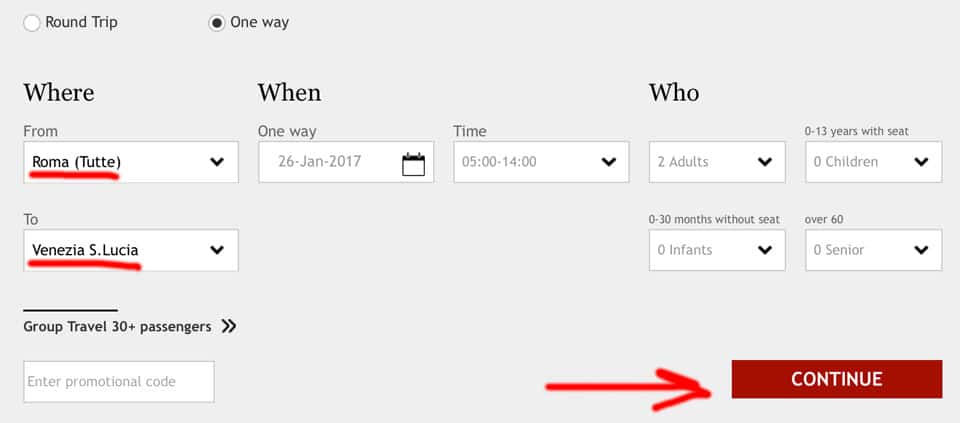 Click CONTINUE.
The site will offer currently available options. As you can see, the trip from Rome to Venice will take only 3 hours and 45 minutes, and the cost of tickets for tomorrow starts from 54.90 EUR. I'll tell you how to save money on a purchase at the end of the article, while we consider the case when you need to leave in 2-3 days.
We choose the appropriate option, for example, at 9:55 a.m. not to hurry and enjoy your breakfast, and at 2 p.m. arrive in Venice just on time to check in the hotel.
Click on the arrow in the appropriate option, and here, you need to select the class of the car:
Smart
Prima
Club Executive
Salotto
We choose the option that suits the comfort and price, press CONTINUE.
Since you have already registered on the website, the data from your profile will be added automatically.
Fill in the second passenger's name, surname, and email address, if any. Click PROCEED TO CHECKOUT.
Before paying, we double-check the dates and time. If you want to change something, click MODIFY TIMETABLES AND FARES – CHANGE SCHEDULE AND TARIFF. Please note that in this example, the system automatically assigned car No.9 (Coach 9) and seats (Seat) No. 49 and 50. Unfortunately, it is impossible to change them, as we take tickets at the last moment.
If you select a Prima class car, then you will have the option to choose a seat.
Of course, when buying a ticket 1-2 weeks in advance, there will be much more options for choosing a seat in the car.
Choose a payment method, for example, Credit Card, enter the card details and click PURCHASE.
Discounts & Promotions
I'm sure you noticed in the screenshot above a very attractive price of a ticket from Rome to Venice of only 29,90 EUR, which was available when buying a ticket week in advance, but this is not the limit.
Planning a trip and booking a ticket several months in advance (sometimes 2-3 weeks is enough), it is pretty realistic to buy a ticket, for example, from Rome to Milan for 19,90 EUR, and from Venice to Rome for only 9,9 EUR – based on my own experience. The table below shows the best offers – the cheapest ticket prices.

Also, if you are registered on the website, you will regularly receive similar promotions. Unfortunately, there are few such tickets. I found the closest one for 9,9 EUR for April 6 (I was looking for January 25).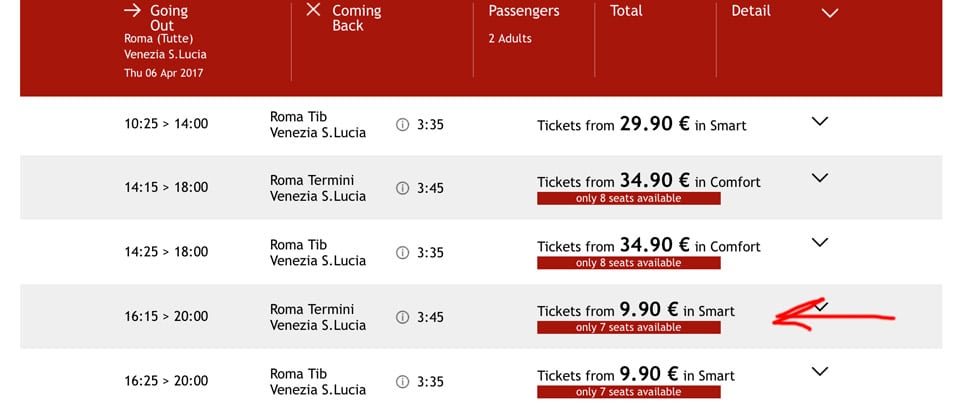 The price of 9,90 EUR per ticket from Rome to Venice is only available in the Low-Cost offer, and the amount is limited. This ticket cannot be returned, but the losses will be minimal even if your plans suddenly change. As you can see, the rest of the offers start at 39,90 EUR. In the high season, when everyone travels, then on the day of the trip, even seats in Smart tariff, if they remain at all, will cost 74,90 EUR for the same level of comfort.
I always go to the official ItaloTreno on Facebook searching for a ticket, where they post promo codes for specific dates. This method has saved me up to 50% of the ticket price several times. But still, the most proven option is simply to buy a ticket in advance. Also, letters with promotions and discounts regularly come to my mail. They look like this.

Read tips:
How to get from Milan to
Florence
How to get from Venice to
Milan
How to validate a ticket
An e-ticket does not need to be printed or stamped. To travel is enough to show the reservation code (6 characters) or QR code.
How to cancel or exchange Italotreno tickets
If your ticket was not purchased at the Low-Cost tariff, then it can be changed.
Go to the trip management page and enter your name, surname, and reservation code to do this.
If you are registered on the site, you can find your ticket and change it in your account. You can change your ticket up to 3 minutes before departure. After that, however, only the most expensive options may remain.
Hints and Conclusions
Buy tickets only at the official website of Italotreno.it
Planning a trip in advance will allow you to save money and choose seats in the car.
Italotreno is excellent for exploring big cities, especially if you're in Italy for the first time and want to see as much as possible.
ItaloTreno trains are more comfortable, modern, and not more expensive than the old Trenitalia.
After the trip, if this guide helped you, please feel free to share your experience and feedback under the article. Also, don't hesitate to ask if you have any questions about ticketing.