Every time one of my friends is going to visit me, I prepare a detailed instruction "How to get from the airport to Milan and back". And even if a person is in Italy for the first time, the road is very easy. The main thing is to have the necessary information, that I would like to share with you. So, let's start!
There are three airports in Milan: Bergamo (Bergamo Orio al Serio), Malpensa and Linate. All of them are located in the district of Milan at a distance of about 50 kilometers. And it is pretty easy to get to the city center thanks to a well-developed public transport system.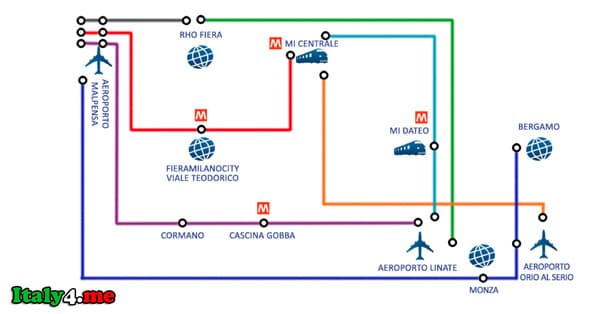 To search for cheap flights to Italy use the www.skyscanner.net service. Please note that aviasales does not sell tickets, but helps you to find the best deal.
I advise you to take a bus, as the railway in Italy is known for its strikes and therefore does not guarantee a permanent connection. However, it is so well-organized that even locals prefer to leave their cars and go by bus. The buses depart from  Milan central station in Piazza Luigi Savoia.
If you prefer a more comfortable option or you arrive late at night, we recommend order a transfer in advance or a taxi at www.welcomepickups.com.
Order a transfer to Milan from the airport:
Bergamo – from 86 EUR
Malpensa – from 80 EUR (taxi drivers have a fixed rate of 95 EUR)
Linate – from 50 EUR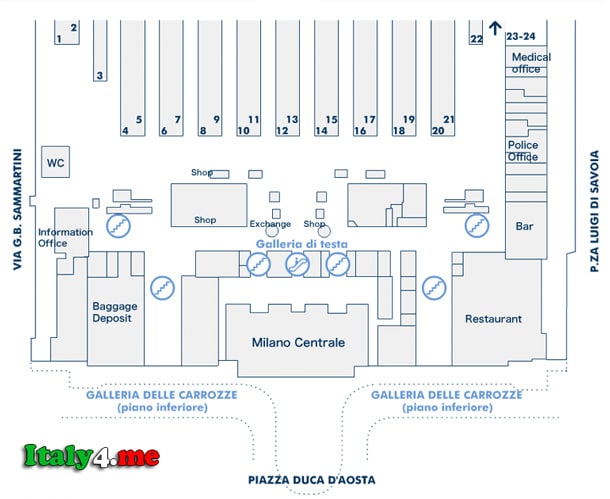 Let's take a look at each airport separately.
Bergamo Airport
Upon arrival at Orio al Serio International Airport (Aeroporto di Bergamo-Orio al Serio), also known as Bergamo, you just need to exit the airport. You will immediately spot several bus stops. The ticket costs 7 EUR. But, first, you need to find a bus to Milano Centrale (Milano railway station). And this is where the difficulty ends. Busses depart every 30 minutes throughout the day. The break is from 12.00 a.m. to 4.00 a.m.
To save money, I advise you to buy e-tickets in advance for 6 EUR at the official website www.terravision.eu
Official website of the Milano Bergamo airport: www.orioaeroporto.it
You can also buy a ticket directly from the driver. In 2019 the price was 7 EUR one way and 13 EUR for a round trip. 1 hour and you are in Milan.
The way back to Bergamo airport starts from the railway station parking lot, where all buses are located. See detailed video instructions:
Malpensa airport to Milan
Malpensa Airport is international and the largest airport in comparison with the other two. You can find a bus stop in front of the airport. Your bus should go in the direction of Milano Centrale. Buy a ticket from the driver. The price for a ticket is 10 EUR one-way, and 16 EUR round-trip. Travel time is about an hour. Buses depart every 20 minutes.
Official website of Milano Malpensa Airport:www.milanomalpensa-airport.com
Be careful when coming back to the airport. At the bus stop of the Milan central station the buses depart to all three airport.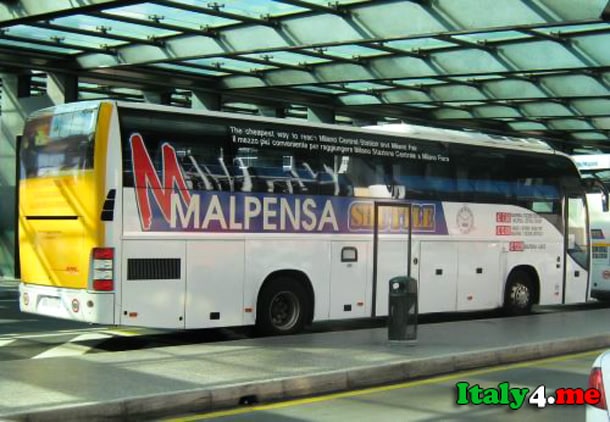 Linate airport
Linate Airport (Linate) is closest to the city center, Milano Centrale. The bus stop is in front of the airport. The ticket price is 4 EUR. Travel time is 30 minutes. The buses go every 30 minutes.
Official website of Milan Linate Airport: www.milanolinate.eu
The way back starts again at Milan central station on Piazza Luigi Savoia.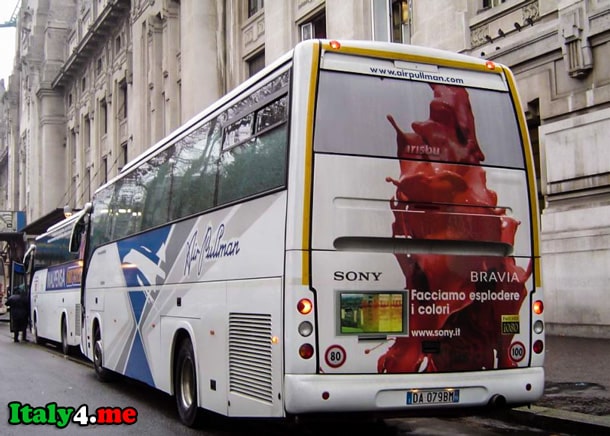 Now you see that the bus transfer is very comfortable and practical, so if you want to save money, you can easily get to Milan without booking a transfer in advance and not overpaying for a taxi.
P.S. All buses offer free Wi-Fi after a simple registration.